Shibarium's native testnet, Puppynet, has been making a lot of noise of late. As reported recently, the test network processed more than 1 million transactions with the assistance of more than 200k unique wallets.
Interestingly, there has been a corresponding network growth on the main Shiba Inu network as well. The latest data from IntoTheBlock revealed that the number of new and active addresses on the network increased by 5.29% and 7.55% respectively over the past week.
Basically, an address is considered to be active when it becomes a direct participant in a successful transaction. New addresses, on the other hand, gauge the number of fresh entrants into the ecosystem. According to the thumb rule, the higher both the numbers, the better, for they hint towards refining participation by traders/investors. Thus, it can be said that the latest uptrend registered on both these fronts is quite an encouraging sign.

Shiba Inu: Are buyers queuing up?
On the price front, Shiba Inu has been consolidating in a narrow range. However, a couple of days back, it managed to break above the ceiling. At press time, SHIB was seen using the same range as support and it was trading at $0.00001122.
The rise has been accompanied by a fair amount of buying. Data from IntoTheBlock revealed that the buyer-seller trade difference stood in green at 72.69 billion SHIB tokens in the six-hour timeframe, justifying the trend.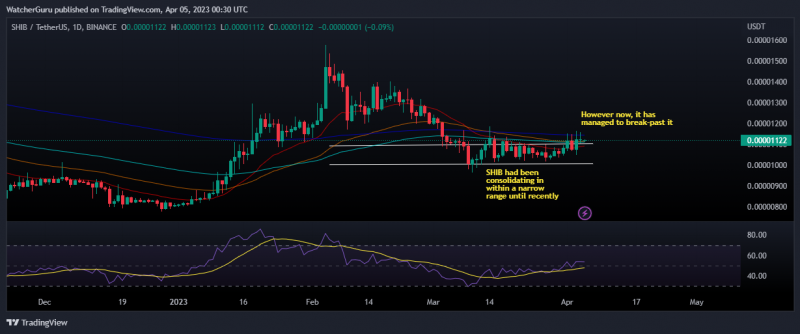 In fact, large participants have also been chipping in. Around eight hours back, a prominent Ethereum whale bought around 229.9 billion SHIB tokens worth $2.5 million.
That being said, it should be noted that there's not much pressure applied by bulls yet, for the RSI was around the neutral mark at press time. So, it would be imperative for buy-side transactions to continue mounting for SHIB's price to benefit from the same.
🐋 ETH whale "BlueWhale0073" just bought 229,963,072,498 $shib ($2,580,185 USD).

Ranked #254 on WhaleStats: https://t.co/RBupemZyZX

Transaction: https://t.co/mykzLrxyBv#SHIB #ShibArmy

— WhaleStats (tracking crypto whales) (@WhaleStats) April 4, 2023
Credit : LINK